Product-Categories





New Products
All Product > SFPs|SFP+|GBIC Modules > 10km SFP+ LR Modules(10 Gigabit Small Form-factor Pluggables)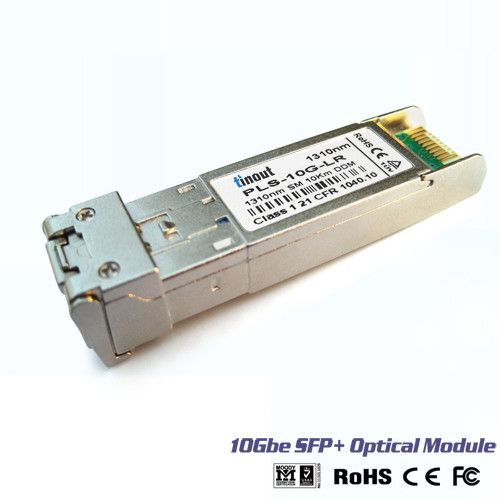 10GB SFP+ Optical Transceivers (10 Gigabit Small Form-factor Pluggables)
Features
SFP+ transceiver are multi-purpose optical modules
10Gbit/s data transmission applications at 850nm, 1310nm and 1550nm.
The transceivers are ideally suited for datacom and storage area network (SAN/NAS) applications
based on the IEEE 802.3ae and Fibre Channel standards,
Fiber Channel 10G, 8.5G, 4.25G, 2.125G, 1.0625G, 10G BASE-SW/SR/LR/ER, 1000 Base-SX Ethernet.

Products
| | | | | | | | | |
| --- | --- | --- | --- | --- | --- | --- | --- | --- |
| Part Number | Data Rate | Source | Wavelength | Voltage | Distance | Output Power | Sensitivity | Application |
| | 10Gbps | VCSEL | 850nm | 3.3V | 300m | -5~-1dBm | ¨Q-11.1dBm | 10 Gigabit Ethernet/Fiber Channel |
| | 10Gbps | DFB | 1310nm | 3.3V | 10km | -8.2~+0.5dBm | ¨Q-14.0dBm | 10 Gigabit Ethernet/Fiber Channel |
| | 10Gbps | EML | 1550nm | 3.3V | 40km | -1~+2 dBm | ¨Q-16.0dBm | 10 Gigabit Ethernet/Fiber Channel |
| | 10Gbps | EML | 1550nm | 3.3V | 80km | 0~+4 dBm | ¨Q-23.0dBm | 10 Gigabit Ethernet/Fiber Channel |
Note:
1. Add Capital ""F"" at the End of Part # for RoHS Compliant (Lead Free)Products.
2.The Distance Listed Above is Recommended for Reference.
10 Gigabit Small Form-factor Pluggables SFP+ transceivers suited for datacom and storage area network (SAN/NAS) applications based on the IEEE 802.3ae and Fibre Channel standa...

Tinout is a leader in the production of transceivers compatible with HP, Cisco, 3COM, Allied, Huawei and H3C, as well as devices for designing economic systems such as CW...